Training
Skills & Development
We are committed to supporting the future of the industry by putting training at the forefront of professional development and proactively narrowing the skills gap, ensuring established, vital and irreplaceable trades, traditional skills and practices continue to thrive. As such, we take responsibility for developing and coaching our workforce at all levels.
"
"Joining the apprenticeship has allowed me to train in something completely new, I'm so glad I decided to do this and I hope other budding stonemasons know that they could do the same. The balance of learning at college as well as at work keeps things interesting and is providing a broad education. Stonewest has been really welcoming and helped me develop my skills and knowledge. I've also met some great colleagues along the way."
Emily Guest, Apprentice Stonemason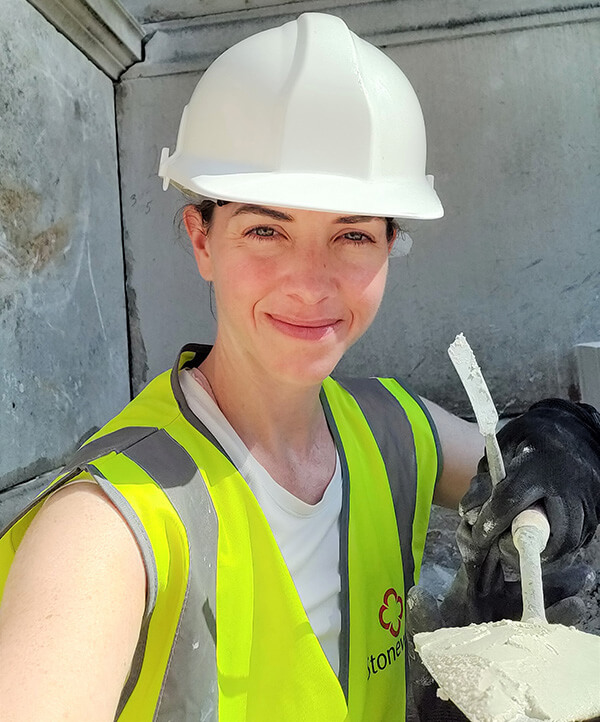 Apprenticeships
We are proud to have supported over 100 apprenticeships across a variety of key trades including stonemasons, façade cleaners, façade preservation restorers, bricklayers as well as supervision and management.
We have formed strong relationships with numerous building craft institutions to further support training and advance the students' knowledge and skills base.
We also have a long standing partnerships with leading sector training and assessment providers, offering practical work facilities and demonstrations of expertise for the CITB Specialist Applied Skills Programme in Façade Preservation.
Several of our publicly funded projects have ensured one or more Apprentices were recruited locally and trained during the project and beyond. In addition, Senior Stonewest staff are active members of the Stone Federation GB, the NSITG (Natural Stone Industry Training Group), a practical and influential body developing industry skills. In addition, we recently joined a Trailblazer scheme working alongside the National Trust to work towards narrowing the skills shortage of qualified labour.
"We take our responsibilities seriously and make a commitment to our valued trainees to not only teach them vital trade skills, but give them the support they need to succeed with their careers. We are very proud of our apprentices, their hard work and dedication. Together, we are working to keep specialist trade skills alive with the next generation of experts and craftspeople." Ian Crossley, Construction Director
Professional Development
At Stonewest we are committed to training our team to be the very best they can be, so that we can provide the finest service and quality of work to our valued clients. As such, we have a Professional Development Review system in place to support our employees at all levels.
The success of our ongoing training programme is exemplified by the high retention levels of our staff and craft operatives (95%+ in 2021). Our process is continuous, working both formally and informally and through mentoring.
This is further supported by our policy towards promotion, incorporating succession-planning linked to appropriate training and development needs, affording all Stonewest staff the opportunity to continually develop and operate at the highest level.
(Image left: Leigh Wright, our Quantity Surveyor, receiving his BSc (Hons) Commercial Management with London Southbank University and his HNC in Construction in 2018. Both qualifications were studied for alongside his role with Stonewest. Leigh has now applied to RICS to become MRICS accredited, which he is currently working towards over the next 2 years. Stonewest will continue to support Leigh in achieving this)