Meet the Apprentice: a conversation with Emily Guest
Stonewest News

We are huge advocates of apprenticeships at Stonewest. They play a fundamental role in supporting our business and enable us to keep specialist trade skills alive with the next generation of experts and craftspeople.

Emily Guest, Apprentice Stonemason, talks to us about why she made the move from a career within professional services to a career within the heritage sector.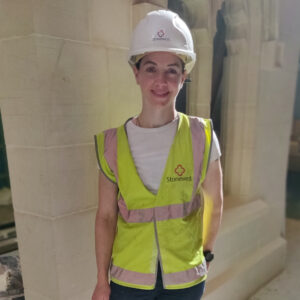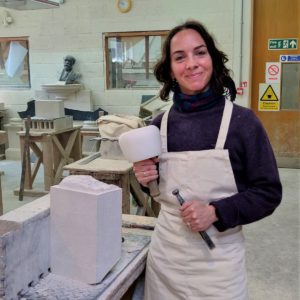 Tell us a little about yourself
I am 10 months into my 2 year stonemasonry apprenticeship with Stonewest and live in south east London.
A management position within the professional services sector to a Stonemason within the heritage sector is a huge leap. How did that come about?
I started to explore different careers and always wanted to do something practical that required a lot of learning. Plus, from always working in busy teams, I knew I wanted to continue doing that. Looking at various trades I could do in London, stonemasonry seemed perfect. I got in touch with Stonewest as well as the college that deliver the apprenticeship and it went from there. I also quizzed a retired stonemason to get a flavour for what it would be like. Having never done anything like this before, I still had confidence that I would enjoy it from all the landscaping and creative things I like to do in my spare time. My previous employer gave me a starter kit of chisels as a leaving present – it was amazing how excited they were about my new chapter.
Tell us about a typical day in your job at Stonewest
I usually get to the site around 7:30 am, get changed and have a cup of tea in the canteen, where I'll usually see a few of my colleagues for a chat. Once we're all on site at 8am there may be a tool box talk at the beginning of the week and some paperwork to sign. Our supervisor might sum up the priorities of the week and decide who needs to work where, usually in pairs. We may have a delivery that day and agree who needs to receive it, or a mobile tower to move, we may also have a walk around to see how last week's work is looking or which areas of the site we have access to when factoring in all the other contractors that may be working in the same part of the site. The work that day might involve cutting out some masonry work for repairs, either indents or mortar repairs, or some pointing, or cutting stones on a bench saw. We usually have two breaks through the day, spent either relaxing in the canteen or somewhere nice outside if the weather is good. Before we leave we pack away all our tools and have a general tidy-up.
A crucial barrier currently facing the industry is the growing skills gap. How would you address this?
I would encourage school children to consider stonemasonry and be there to answer their questions at open days, apprenticeship days, careers fairs. Also, there are about 50% of school leavers (i.e. female) that never think stonemasonry is for them, which is a huge pool of talent that goes undiscovered.
I see apprenticeships being thought of as something people do if they are not particularly academic. Whilst the skill requirements are different to a desk job, apprenticeships are still opportunities to build knowledge and problem solving skills (as well as the traditional hands-on skills) and can lead to so many interesting specialisations. So, I would like to see budding apprentices shown the diversity of people that can go into this career path, and demonstrate just how interesting it can make your working life.
What advice would you give somebody who is considering carving out a career in stone masonry?
Think of all the reasons to go for it, not the reasons not to. Read some of the stonemasonry stories online and look at potential sponsor companies; their websites usually have details of the work they have done. Give them a call! Most stonemasons enjoy talking about what they do and they will give you an idea of what it is really like, day to day. You will get dusty, and you will face the elements but there are always ways to make yourself comfortable enough to enjoy the work if you have a passion for it. Failing that, most people on a construction site have a good sense of humour and help you laugh at everything that's thrown your way.
If anyone is interested in joining the Apprenticeship scheme, please contact the Stonewest head office on info@stonewest.co.uk or 020 8684 6646